Ion Exchange (IX and DI) Tanks and Deionization Equipment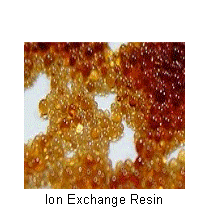 Many of our service customers use mixed-bed deionization (DI) as part of a comprehensive water purification process.  Deionization, which is also referred to as Ion Exchange (IX) or mixed bed DI, is a technology that uses positively charged (cation) and negatively charged (anion) resin to remove contaminates in water.  Over time the resin will become saturated with impurities and it must be regenerated in order to again be affective.  Regeneration is not necessarily difficult, but it is time consuming.
Many companies will use "Exchange Tanks" for DI systems as a means of keeping their processes running while saturated resin is regenerated.  With an exchange tank program, the mixed bed DI tank with resin that requires regeneration can be exchanged for one that is ready for use.
Aqua Clear offers DI exchange tanks at a discounted rate for customers that participate in a monthly service contract for water treatment services.  This is one of the many value-added services that we offer for our customers.
We also sell Ion Exchange equipment and mixed bed DI tanks and systems as part of turn-key water purification systems or as stand alone components.
Please click here to e-mail or call us at 858.270.7655  to learn more about Aqua Clear, or to schedule an on-site evaluation.  We welcome the opportunity to discuss your water treatment and/or water purification needs.